TOP 6 Best Proxy for Telegram


Everybody uses the Internet these days for different purposes – for fun, work, education, and shopping. But not everyone can easily access all required Internet resources; for many users, internet access is controlled and blocked in different ways.
Proxy is one of the reasonable solutions to access required Internet resources and, in the meantime, improve your privacy and security, block unwilling websites and advertisements, and improve the connection speed. A proxy server works as an intermediate element between the user and the Internet; the proxy receives the user's request, sends it on his behalf, receives the response, and sends it to the user. All transferred information could be encrypted, and the user's IP address could be hidden. Four types of proxies work differently: open proxies – transparent and anonymous; reverse proxies – distorting and high-anonymity proxies. A proxy can be implemented as SOCKS, HTTP, CGI, Tor onion, etc.
So, proxies can be helpful in many ways, and for sure, have some disadvantages. This article is focused on the best proxies for improving users' functionality in Telegram.
How to choose the best proxy for Telegram?
Telegram is a messaging application with a high level of encryption and privacy protection. Telegram has multiple levels of encryption, but you can enhance it by adding a proxy server. Telegram supports proxy servers for users who want to hide their IP addresses. Telegram has in the settings a unique proxy settings panel to activate the required proxy server. Several proxies can be used for Telegram: SOCKS5, HTTP, or MTProto proxy. These proxy types can be activated in Telegram web versions – Windows, Linux, macOS, as well as Android and iOS mobile devices.
To choose the best proxy, there are some crucial aspects to consider.

Reliability of a provider (public or free proxies in most cases are not safe solutions);
Type of proxy (HTTP, SOCKS, dedicated, rotating);
24/7 customer service;
Price.
All proxies described in this article can be successfully used not only for Telegram but also for other Internet surfing programs if you value your privacy and security.
Table comparison
BeeProxy
Private Proxy
Bright Data
Oxylabs
Soax
Proxy Seller
Telegram support
Proxy customization
Yes, with a special dashboard
Yes, with a special dashboard
Yes, via Proxy Manager
Yes, with a special dashboard or API
Yes, with a special dashboard
Yes, by request to the manager
IP address change
Speed
Super fast
Super fast
Super fast
Super fast
Ultra fast
100 Mbit/s
Proxy type
Residential
Residential and data center
Residential, ISP, and data center
Residential, ISP, and data center
Residential
IPv4 and IPv6
Proxy pool
N/A
100.000+
72 million residential
1.6 million of datacenter
102 million
5+ million residential
3.5 million mobile
800 subnets
Mobile proxies
4G Mobile Proxy
3G/4G Mobile
3G/4G Mobile
3G/4G Mobile
LTE Mobile
Coverage
Many countries and cities
195 countries
195 countries
195 countries
199 countries
50 countries
Price
Residential $18.00/ GB
Mobile
$30.00/ GB
One proxy from $5 / month
Residential from $15.00 / GB
Mobile $40.00/ GB
Datacenter $0.80/IP+$0.110/GB
Residential from $12/GB ($300/ month
Mobile $25.00/GB ($500/month)
Datacenter
100 IPs – $180/month
Residential from $12/GB
($99/month) Mobile $33/GB ($99/month)
1 pc. IPv4 from $2.14 /month
1 pc. IPv6 $0.16 /month
Mobile
$80 /month*
Techincal support
Money return policy
30 days
Free trial
Free trial
3 days
Trial for $1.99 and for 3 days
* The prices presented apply to the USA. For other countries, please check the official website.
Detailed product description
Beeproxy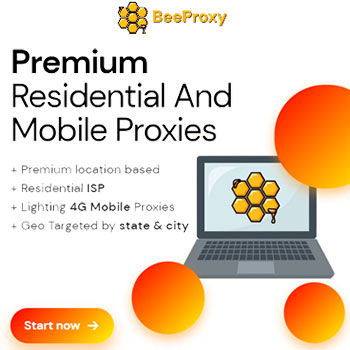 BeeProxy is one of the fastest and most high-quality proxies on the market. There are two types of proposed proxies – residential or lighting 4G mobile proxies. For both, you can choose a server from a vast list of countries and cities.
This server has a choice of about 2 million IP addresses with high speed so that you can choose the closest to your required location. Then, you purchase access to the proxy market where you can generate, change settings and manage proxies. All purchased proxies will have a unique IP address and can be used without delays. You can choose rotating or not proxies as well. At any time, you can deactivate any of your purchased proxies on the dashboard after login into your account.
BeeProxy will charge you for the volume of generated proxies in GB, the minimum amount is 1 GB, and there is no maximum limit. BeeProxy is so sure in its service that they return the money within 30 days if you have slow-speed proxies or with bugs. BeeProxy provides its services for all purposes, including Telegram, with two exceptions – any illegal services and torrenting. The detailed list of not supported websites is presented on the official website.
Pros
Easy-to-use dashboard for proxy creation and management
Availability of residential or mobile proxies
Vast choice of location of proxy servers with unique IP address
No limits on the number of proxies
Possibility to generate private proxies
Fast speed
A good solution for Telegram
30 days of money return guarantee
Technical support with a ticket system
Cons
Blockage for torrents
Only credit cards can be used for payment
No data center proxies
Expensive solution per 1 GB
Private Proxy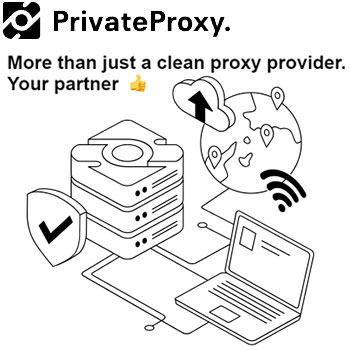 Private Proxy proposes 100% clean proxies for various purposes, including e-commerce (Amazon, eBay, BestBuy), gaming, search engines (Bing, Google, Yahoo), social network (Instagram, Facebook, Telegram), streaming (Twitch, Spotify, YouTube), and sneakers (Zalando, Footaction, Eastbay, etc.). The provided proxies are datacenter, residential, residential static, rotating, HTTP, SOCKS5, IPv4, dedicated, SSL, premium, anonymous, personal, and ISP. All types of proxies can be instantly activated and used for any purpose. The tariff plans are based on a number of proxies – 1 proxy of any type starting from $5 per month, and 1000 proxies costing $2500 per month. All proxies can have unlimited connections and unmetered bandwidth.
Residential proxies are a good solution for Telegram as you can choose an actual location like a real user; this type is commonly used for sensitive Internet operations. Datacenter proxies are cheaper – for $9, you will get three proxies per month which suit better for bulk orders, but they can be blocked and tracked faster if somebody compromises one of them.
important info
All proxies are available with great speed; for all types of proxies, you can choose private or dedicated IPs that make the Private Proxy one of the leaders on the market.
Another solution to increase privacy is rotating datacenter or residential proxies – starting from $59 / month. A new proxy is assigned from the proxy pool for every connection or with flexible intervals. This solution helps to avoid bans as well. You can choose static HTTP or SOCKS5 proxies or rotating HTTP or SOCKS proxies (residential or data center); both types are workable for Telegram.
With a Private proxy, you can easily go around geo blockage without the risk of being banned by an anti-spam filtering system. In addition, after purchasing the required amount of proxies, you will immediately receive access to the easy-to-use dashboard for IP configuration and management.
Pros
Proxies for any purposes
Residential or data center proxies are available
Static or rotating proxies are available
SOCKS5 or HTTP proxies are available
Possibility to buy from 1 proxy per month
Vast choice of proxy server's country of origin
Fast speed
Technical support 24/7
Unlimited connections for each proxy
Cons
Complicated separation of proxy types for beginners
Expensive
Bright Data

Bright Data proposes one of the most advanced solutions for proxy servers for all use cases and any business needs. All proxies help to bypass any location, IP, and CAPTCHA restrictions using the best proxy performance. Bright data collects minimum data from users to provide access to its services. The service has residential proxies, super proxies, data center proxies, ISP proxies, and mobile proxies. Among these types are anonymous proxies, rotating proxies, shared proxies, and dedicated proxies.
Mobile proxies from Bright Data are a perfect solution for Telegram users on mobile devices. The proxies are available from the fastest and largest 3G/4G network without traffic and data limitations; any country can be chosen for proxy, including the USA. Bright Data proposes for all the plans – pay as you go – meaning that you pay based on the number of used IP addresses from the proxy and GB of transferred data. The more proxies you purchase and the more information you transfer; the more significant discount you will receive. Meanwhile residential and data center proxies are also reliable and are the most stable in every country – more than 500 companies are already using these types of proxies. Datacenter proxies could be shared or dedicated IPs.
The user receives proxy customization and management of a special tool – Proxy manager. With this tool, you can totally control all proxy sessions, control rotation of IP addresses, see detailed logs reports, and measure statistics. In addition, this Manager has a user-friendly interface to maximize all proxy's performance. Another unique option of Bright Data is the availability of Proxy Browser Extension. All the best proxies of this service and protocol are available in major browsers – Chrome, Firefox, and Edge. Furthermore, you will receive dedicated account managers and 24/7 global support for all tariff plans.
Pros
Residential, data center and mobile proxies are available
195 countries are available for choosing a proxy server
Bypassing CAPTCHA restrictions
Dedicated account manager
24/7 technical support
Unlimited connection of 1 proxy
User-friendly Proxy manager to customize proxy settings
Cons
City-level choice of proxy is available for an additional price
A dedicated IP address is available for an additional price
Expensive solution per 1 GB
Oxylabs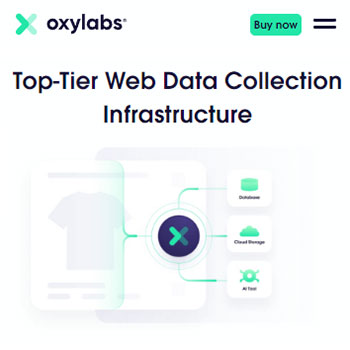 Oxylabs has one of the largest proxy pools on the market – 102 million proxies from 195 countries.
This pool includes 100+ million ethically sourced residential proxies to avoid blockage during scrapping and gathering data. The top residential location is the USA, with over 10 million IPs. All residential proxies have an actual physical location, are legitimately collected, and have no concurrent session limitations. These proxies can be easily integrated and managed in Telegram settings as well. There are two ways to control proxies via the Oxylabs dashboard or public API. All control ways allow users to create, update and delete sub-users of proxies, set limits, follow all usage statistics, and manage other subscription parameters.
Moreover, Oxylabs delivers new products on the market – next-generation residential proxies that were checked by artificial intelligence and machine learning to appear as a real user with a 100% success rate, be adaptive, hassle-free, and be AI-powered dynamic fingerprinting. These residential proxies easily pass all CAPTCHA checking and adapt all website changes and JavaScript rendering. However, their price is higher: standard proxies are – $12/GB ($300 per month), and next-gen proxies start from $18/GB ($360 per month).
If you are searching for a real mobile proxy, Oxylabs has a stable IP pool of Mobile proxies. They have an automatic mobile IP rotation with high success rates – successfully pass all checking and quickly integrate via a single endpoint. For long Telegram sessions without being detected or interrupted, you can use the benefits of ISP rotating proxies that combine data center and residential proxies.
The cheaper solution, shared data center proxies, also can be used for Telegram but is less recommended. Better to use dedicated ones without target limitations on concurrent sessions; they support IPv4 and IPv5 and can be easily integrated into third-party software. They start from $1.80 or $3.00 per 1 IP ($180 per month), and the starter package includes 100 IPs.
Pros
The largest pool of proxies
New-gen residential proxies are available
Rotating and static proxies are available
IPs and data center proxies are available
Control via API or dashboard
Proxy rotator for data center proxies
195 countries are available
Stable, reliable connection without errors
Dedicated account manager
24/7 technical support
Cons
Legal advice should be checked before using mobile proxies
No significant discounts for a large number of proxies
Soax
Soax exclusively offers two types of proxies – residential and mobile from 8.5 million IPs worldwide. You can check the required country, city, and provider. Almost all countries are available, excluding the State of Texas USA, but there are about 700 thousand IPs from other places in the USA. You can work with multiple proxies simultaneously, use their rotation and manage them via the SOAX dashboard. All available proxies are 100% allowed listed with a high success rate; they are HTTP/SOCKS5 by default.
Soon, Soax intends to propose high-performance private data center proxies. It is essential to add that proxies work better with anti-detect browsers for advanced security. These browsers add anonymity functionality that proxies do not have – allowing to work at the same time with several IPs in different tabs without being blocked and with reduced fingerprint, clear cache, and cookies. Telegram is also available as a web version so that you can use several accounts simultaneously in different tabs with anti-detect browsers and Soax proxies. Soax proxies can be used for almost all purposes except sending unlawful content and financial service usage (PayPal, Strip, Payoneer, etc.).
Secure residential proxies are provided with IPv4 addresses with ultra-fast response times. These proxies are compatible with Telegram and provide complete anonymity on the web. They can also be used for price monitoring, advertisement verification in different countries, SEO monitoring, market research, speed testing, and multiple other ways. The price for a starter package with 8 GB is $99 per month.
Reliable mobile proxies from a wide range of locations are also available from Soax. Their proxies are also ultra-fast, have the option of automatic rotation, and redirect mobile traffic via proxy servers with 100% anonymity. The price for mobile proxies with an equal number of ports – 300 ports in a starter package with 3 GB is $99 per month.
Pros
Wide range of proxy servers worldwide -199 countries
Ultra-fast residential and mobile proxies
HTTP/SOCKS5 type of proxies
Video guides and tutorials on Soax official website
Many payment methods are available
User-friendly Soax dashboard for managing proxies
Compatible with third-parties software, including Telegram
Cons
Proxies are blocked for financial services
Only live chat technical support
No data center proxies
Proxies from Texas are not available
Proxy Seller
This proxy is the only one that has specially dedicated proxies for Telegram; for sure, they can be used for other purposes, but it is convenient not to think about what type of proxy to choose. For Telegram Proxy Seller proposes HTTP/HTTPS/SOCKS5 proxies, fully anonymous, with a speed of 100 Mbit/s and without traffic limitation. You can choose the required country, the number of proxies, and the subscription period – automatically, the best deals of proxies with IPv4 addresses will be presented. If required once per month, you can change the addresses upon request to technical support. All proxies are exclusive, so there should be no worries about other users' actions.
After you make the purchase, you instantly get access to the proxies. All prices are based on the country of the server location. Proxies are provided only for one person; to access them, you need a password, a username, or your static personal IP address. One proxy can be used on several devices simultaneously without a decrease in speed, but it is recommended not to extend the proxy for more than three devices.
Proxy Seller provides three types of proxies – Ipv4, IPv6, and Mobile Proxy LTE. IPv6 is available only from Russia, the Netherlands, Germany, Spain, France, England, the USA, and Canada. Mobile proxies are available from 10 European countries, Kazakhstan, India, the USA, and Australia. Mobile proxies are high-speed rotation proxies with rotating IP addresses (you can set the changing time) for better privacy and efficiency.
IPv4 proxies are available from 50 countries in Europe, Asia, Africa, North and South America, and Australia. Dedicated channels have a speed of up to 1 Gb/s and are selected with 800+ subnets from 300 networks. If you are unsatisfied with the proxy, it can be replaced within 24 hours by the 24/7/365 technical support team. Unfortunately, manual setting adjustment is only possible through the company manager.
Pros
Friendly-user interface for Telegram proxies
HTTP/HTTPS/SOCKS5 proxies
Different payment methods
Proxy replacement in 24 hours if required
Technical support 24/7/365
Dynamic proxies are available with rotation every 5/10 minutes (can be customized)
Possibility to choose the required country of a proxy server
Cons
No manual adjustment of proxies
A proxy can be used only by one person
Frequently Asked Questions (FAQs)
Why do I need a Proxy for Telegram?
A proxy should be used for Telegram to improve messaging experience. As with any Internet program, you can be tracked with it, so using a proxy, you can change your IP address to mask your physical location. Moreover, by changing geolocation, you can avoid Telegram geoblocking and use it, for example, in China. Also, a proxy increases connection speed and your PC security.
Which proxy server is best for Telegram?
SOCKS5 is the best solution as a proxy server for Telegram. All proposed six proxy providers have this protocol for Telegram users.
How can I use Telegram without VPN?
Telegram can be used freely in those countries without a VPN in those countries where it is not blocked. A good solution is a proxy server to use Telegram in blocked countries or if you want to change a country to a dedicated one. The proposed in this article proxies successfully give you access to Telegram.
Conclusion
We hope that any Telegram user can find a proper proxy solution out of this article. We summarized proxy services based on their reliability, security, popularity, and reasonable price proposals. If you are a beginner, Proxy Seller is the perfect start for working with Proxy, choose the required country, and you will receive the best deal for Telegram. For advanced users who prefer controlling all settings, Soax, Oxylabs, and Bright Data are perfect options.
Finally, BeeProxy and Private Proxy are for average users in between. The price for proxies are similar; there are some differences between provided types and protocols of proxies and the number of available countries for proxy servers, but you will be satisfied anyway with all of them.