How trusted is the VPN provider you want to get VPN services from? Brand matters. The rule of thumb is to buy from trusted brands that have been in business for longer. Shun these new little-known brands as they will compromise your security and privacy. In our evaluation of brand trust, we were concerned with the experience and ownership of the provider and what cybersecurity experts and users are saying. So, which VPN wins this first round?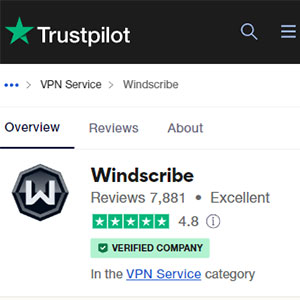 Windscribe is not a new name in the VPN industry, having been founded in 2016 by 3 cybersecurity experts; Yegor Sak, Mark Ulicki, and Alex Paguis. Windscribe was, however, acquired by Gape Technologies™ for a whopping $696,969,420 in 2022.
Today, Windscribe is popular for its free VPN service and has earned the recognition of top cybersecurity experts and publications.
Most consumers also laud it for its reliability, except for a few isolated cases of complaints. At the time of writing, Windscribe has a Trustpilot Trustscore of 4.8/5 after over 9,500 reviews.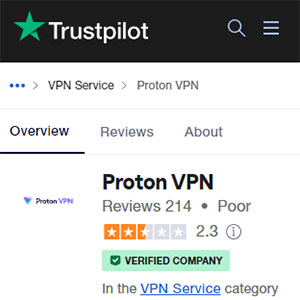 ProtonVPN has also been around for some time. The company, owned by Proton AG, was launched in 2017 and remains a crowdfunded project.
Like the founding project Proton Mail, ProtonVPN has quickly risen the ranks in the VPN market and is one of the best free VPNs today. Proton VPN boasts over 70 million users worldwide and has been hyped by cybersecurity experts and featured in TED Talks.
Most consumer reviews are good, save for the several bad ratings attributed to billing issues. At the time of writing, ProtonVPN has a poor Trustpilot Trustscore of 2.5/5 after around 330 reviews.