The VPN industry has hundreds of VPN brands, some with a good reputation, while bogus providers operate others. To get the best value for money, go for trusted brands known for reliability. In this first round of this Windscribe vs. ExpressVPN comparison review, find out which of the two brands has the best reputation. We have done thorough background checks on the company profiles and, importantly, what the experts and users say.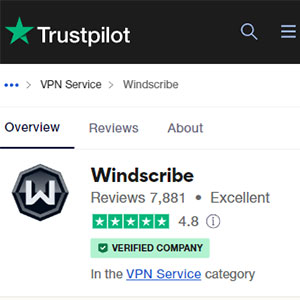 Windscribe is a Canadian-based VPN officially released in 2016. The company was founded by Yegor Sak, Alex Paguis, and Mark Ulicki, renowned cybersecurity experts. Gape Technologies, however, acquired it in 2022.
The company has risen to become one of the best VPN brands today. It has been hailed as one of the most reliable VPNs in the industry by top cybersecurity influencers and has been featured in several top publications.
We scoured VPN forums and consumer review websites, and we are glad it has positive reviews, save for a few cases of dissatisfied users, which is not unusual.
On TrustPilot, this VPN has a Trustscore of 4.8/5 after over 7,400 reviews which is quite impressive.
ExpressVPN is also a trusted VPN brand. Founded in 2009, the company has scaled the heights to become a household name in the industry.
ExpressVPN is owned and operated by Kape Technologies, a conglomerate behind several other top VPN brands, including CyberGhost, Private Internet Access (PIA), and Zenmate.
Today, ExpressVPN commands a large portion of the VPN market boasting over 3 million users. The award-winning company is rated highly by top cybersecurity experts and consumers. We also checked VPN forums and user reviews; users' feedback is impressive.
On Trustpilot, ExpressVPN has a Trustscore of 4.7/5 after over 12,700 reviews.